The group is called Your Space and is for young lads 11-18 years of age.  The group is a support group with fun, laughter and team building exercises.  Along with all the fun things we also have days when we sit down and talk about issues that are important to young men growing up from health and hygiene to online and phone security etc.
https://youtu.be/2vvMKHvuRkY
Contact Paul.booth@sunderlandmind.co.uk
0191 5657218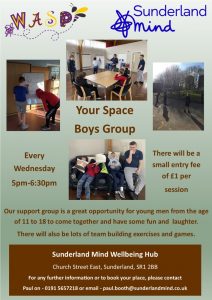 A multi sports group ran by a Sunderland AFC Semi-professional, with different activities and sports every week.
Contact Leigh.Ann@sunderlandmind.co.uk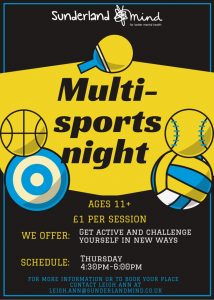 Girls Wellbeing Group on Tuesday nights for young people aged 11 to 17 at Sunderland Mind after Half term. The main aims of the group are to build resilience and confidence in young girls so they are able to cope and tackle the many challenges they may face.
We will have lots of fun and it will be a safe space for the young people to talk.
Contact Jenae.shaw@sunderlandmind.co.uk