Introduction
At this stage in your education, you are able to have some choice in the subjects you will study in Years 10 and 11. You should read through the options information carefully, with your parents/carers, and discuss with them the subjects you would like to choose; please bear in mind your future education and career intentions.
Don't make up your mind until you have had the opportunity to talk to your teachers about your progress, and have obtained as much subject and careers information as possible.
Please read all of the information on the webpage carefully and if you or your parents/carers require further information, contact either: the relevant subject leader; Mrs Crompton (Year Manager) or Mr Langley (Vice Principal).
Careers information, advice and guidance is available from Mr Warkman (Vice Principal) and your PSHCE subject teachers.
The Curriculum in Years 10 & 11
Core Subjects
You have to study English Language, English Literature, Maths, Statistics, Science, PE, Cultural Studies PSHCE, and either Geography or History.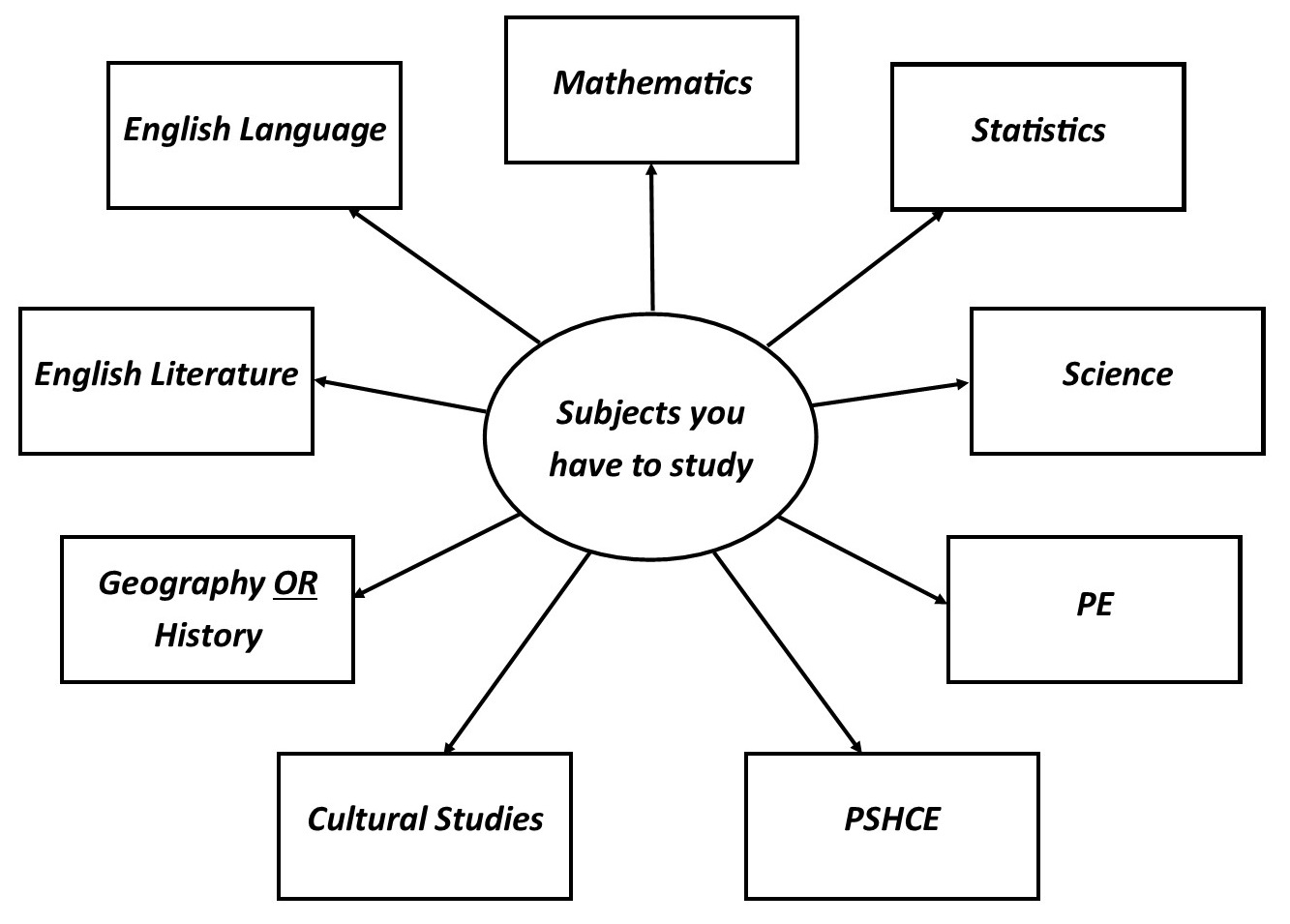 Option Subjects
On the options form, you will make choices from 2 sections:
In section 1 choose either Geography or History.
In section 2 choose 4 subjects in order of preference. You will study 2 of these subjects.
MAKE SURE THAT THE SUBJECTS YOU HAVE CHOSEN ARE IN ORDER OF PREFERENCE.
You must choose subjects that you are willing and prepared to study
UNFORTUNATELY, WE CAN'T GUARANTEE THAT YOUR CHOICES WILL RUN; CERTAIN SUBJECTS WILL NOT RUN IF TOO FEW LEARNERS OPT FOR THEM.
Take Care!
Remember that your friends may choose the same option as you, but you may be in a different group. If you make a mistake and don't like the option, it is very difficult to change.
Think carefully – give it a lot of consideration.
Learning Support
Your teachers will support your development during the course and may offer sessions after school to help you with controlled assessments and revision. Learners with special educational needs, and/or disabilities, will be supported by their class teacher and the SEND Department.
Your Timetable
In September 2023 your timetable will have 30 lessons, each 50 minutes long. It will include the following subjects:
| | | |
| --- | --- | --- |
| Core Subjects | Number of lessons | Possible GCSE/equivalent |
| English Language | 3 | 1 |
| English Literature | 3 | 1 |
| Geography or History | 3 | 1 |
| Mathematics and Statistics | 6 | 2 |
| Science | 6 | 2 or 3* |
| PE | 1 | 0 |
| Cultural Studies | 1 | 0 |
| PSHCE | 1 | 0 |
| Options Subjects | | |
| Choice 1 | 3 | 1 |
| Choice 2 | 3 | 1 |
| Total | 30 lessons | |
*Science pathways are determined during Year 10, based on test scores. Learners on the separate sciences pathway will sit 3 GCSE subjects (Biology, Chemistry and Physics). Learners on the combined science pathway will sit Combined Science Double Award (worth 2 GCSE subjects).
Your Choices
Your options form must be fully completed, and submitted by 8.30am on Friday 10th March 2023. If your form is submitted late, or not at all, you will be less likely to be given the subjects of your choice!
You will find information about each option subject under the subject link on the Kepier options webpage. The subjects are in alphabetical order. Look at the information carefully before making any decisions.
Good luck!